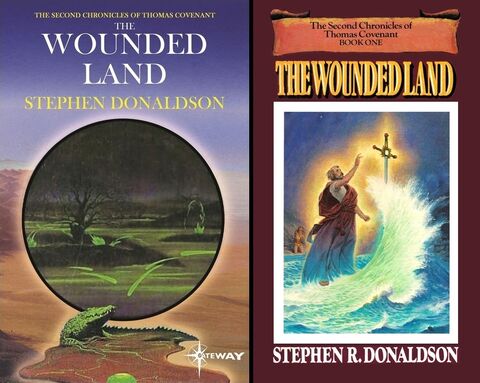 The Wounded Land is the first book in Stephen R. Donaldson's trilogy The Second Chronicles of Thomas Covenant. It was first published in 1980.
Plot Synopsis
Edit
Thomas Covenant returns unwillingly to a Land ravaged by four thousand years of Lord Foul's pestilence. Under the evil Sunbane, the people of the Land submit to cruel sacrifices; the rulers of Revelstone are corrupt, the fields and forests laid waste; the healing Earthpower impotent. Accompanied by a woman from his own world, Covenant begins a new quest to save the Land from the forces that have all but destroyed it...
Ad blocker interference detected!
Wikia is a free-to-use site that makes money from advertising. We have a modified experience for viewers using ad blockers

Wikia is not accessible if you've made further modifications. Remove the custom ad blocker rule(s) and the page will load as expected.