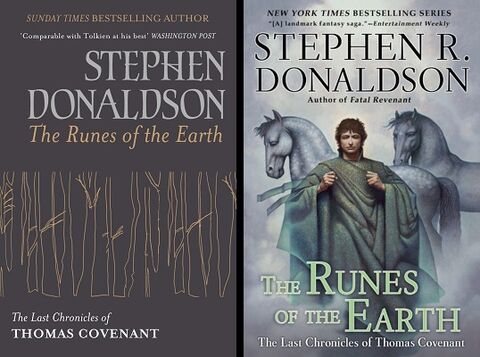 The Runes Of The Earth is the first book in Stephen R. Donaldson's tetralogy The Third Chronicles of Thomas Covenant. It was first published in 2004.
Plot Synopsis
Edit
In the real world, it's ten years after the events described in White Gold Wielder and Linden Avery thinks she will never again see the Land or Covenant, her beloved. But Lord Foul has stolen her adopted son and is unmaking the very laws of nature. And though she believes Covenant dead, he keeps sending Linden messages: 'Find me', 'You're the only one who can do this' and 'Remember that I'm dead'. The Land is in turmoil, and Lord Foul has plans for them all...
Ad blocker interference detected!
Wikia is a free-to-use site that makes money from advertising. We have a modified experience for viewers using ad blockers

Wikia is not accessible if you've made further modifications. Remove the custom ad blocker rule(s) and the page will load as expected.