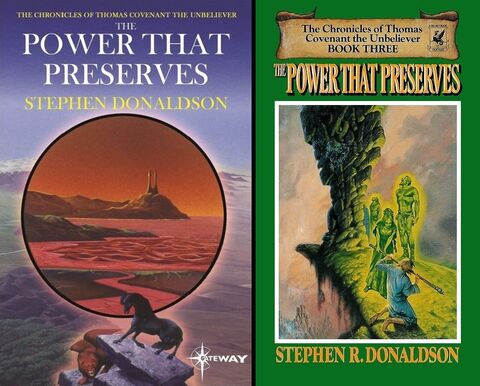 The Power That Preserves is the third and final book in Stephen R. Donaldson's trilogy The First Chronicles of Thomas Covenant. It was first published in 1979.
Plot Synopsis
Edit
Twice before Thomas Covenant had been summoned to the strange other-world where magic worked. Twice he had been forced to join with the Lords of Revelstone in their war against Lord Foul, the ancient enemy of the Land. Now he is back - to a Land ravaged by the armies of Lord Foul. The Lords are besieged and helpless. No place is safe and Foul's victory seems certain. Only Covenant can avert it. Desperate and without hope, he sets out to confront the might of the Enemy. With him go a Giant, a Bloodguard and the woman he has wronged. And in Foul's Crèche, Lord Foul grows in power with each new defeat for the Land...
Ad blocker interference detected!
Wikia is a free-to-use site that makes money from advertising. We have a modified experience for viewers using ad blockers

Wikia is not accessible if you've made further modifications. Remove the custom ad blocker rule(s) and the page will load as expected.