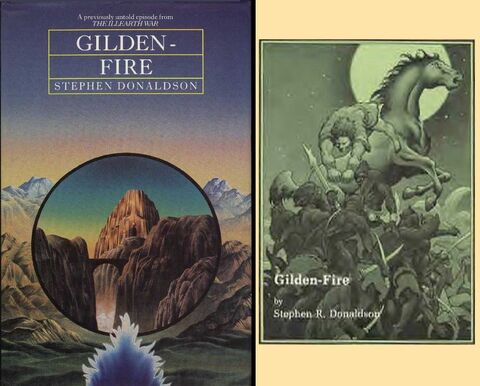 Gilden-Fire is a short 100 page novella that forms an add-on to Stephen R. Donaldson's trilogy The First Chronicles of Thomas Covenant. Detailing additional events that took place during The Illearth War, the second novel in the trilogy, it was first published in 1981.
Plot Synopsis
Edit
Gilden-Fire covers an episode from the doomed mission to contact the Giants and is told from the point of view of Korik, the senior Bloodguard in the party. It describes his selection of other Bloodguard to accompany the mission, then narrates the company's passage through Grimmerdhore forest, where they defeat an ambush of ur-viles and kresh. The narrative ends as the mission leaves the forest.
Ad blocker interference detected!
Wikia is a free-to-use site that makes money from advertising. We have a modified experience for viewers using ad blockers

Wikia is not accessible if you've made further modifications. Remove the custom ad blocker rule(s) and the page will load as expected.